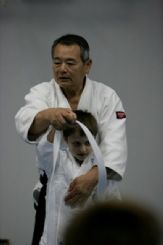 Bursa Hosted a Giant Bursa
Bursa Hosted a Giant Bursa

Extensive and unique program was passed with Sueazawa Sensei who came to Turkey as fourth time.With 3 trainings a day ,Aikido training by day and S.Muso ryu Jo training by night was made .We?d better to admit that we took important messages from by being of healtful and vigorous of 68 years old Sueazawa sensei in spite of we got tired during the trainings.It was quite difficult for us to catch up with our master who was leading front during morning runnings.Our master who was 68 years old was watched by all students with admiration when he opened up his legs 180 degrees during stracthing exercises .
Once more we?ve apprehended what mastership means by courtesy of master Sueazawa.What black belt means which is put waist on ... While we were considering ourself as a master by a carton piece which was given us by somebody, master suezawa has made us to see how long the way to be taken ..
We had a chance to make very precious conversations with Suezawa on saturday night who got a chance to be a student of The founder of Aikido great Master M.Ueshiba .I think the most important thing which set it?s signature to the night were the questions regarding M.Ueshiba?s mysterious sides .Was he having really mysterious forces as we saw on black-white scenes ?What kind of person was he? What was he eating? How was he living? As the time passed neither master sueazawa got tired to answer nor we got tired to ask .Undoubtedly the master of this art which has been made through out the world was very important..Master Sueazawa still believes that great master has power and energy in this art.
Even thou it was an intensive program he didn?t teach so many technics and kata/In fact he mentioned that I wish I could give you as much as possible during this short time ,but even we need time to digest our foods, so you?d better to train these technincs for a while so we will be able to add on more when I come back again?
Master Suazeawa?s dojo which is small and lowly close to Tokyo naritaya owned by him is also the dojo of Nishoka Sensei Hombu dojo(Main Training Salon) who is legend in Jo do art.Suezawa sensei describes Nishioka sensei as a legend same as Suezawa Sensei says that ?Training with him is a great chance?..he also says that in Japan I?ve trained Aikido with Ueshiba sensei and Gozo Shiado,on the other hand I?ve taken trainings on the subject of sword and jo from considerable ,a lot of masters ,but in fact Nishioka sensei is the best sword and jo master I?ve ever seen.He is the only one representative of the school which roots go back to 15?th century.Nishioka sensei?s biggest dream is to be known and made of this art in all continents ,to serve this art which has been made as an envoy on be half of peace and brotherhood .Nishioka sensei says that years ago sword was for fighting ,however today it represents peace and brotherhod..?

Afte the second world war Japan left the war as defeated ,And some prohibitions were brought in.performing ancient budo arts was also one of these prohibitions as well.During this period Nishioka Sensei had trained up only one student ..And this is Arai sensei..
Unfortunately when I look at modern arts I can only see associations and institues which duties are just giving Dan.And unfortunately this affair is completely taking place in corporation style.Even thou this style is necessary for the masters to survive ,I haven?t seen from M.ueshiba and Nishioka anything like this.I don?t think this habit will take budo to any further either.As we are elder masters, we should come together,and discuss how to pass on this escrow to the next generations in the best way.

As representative of Uluyama Fatih Topal will attend to international seminary that will be made on April 2008 as invited guests of our Suezawa master